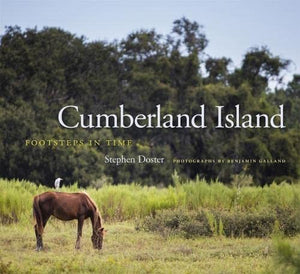 Cumberland's past tells a rich and complex story, one of conquest by indigenous tribes, French and Spanish explorers, English settlers, cotton planters, and occupation by British and Union naval forces.

Cumberland Island: Footsteps in Time is the first book about the island that offers readers a complete history of the island combined with stunning photography and historical images. Richly illustrated with more than 250 color and black-and-white photographs, it is a comprehensive history, from native occupation to the present. Author Stephen Doster takes the reader on a chronological journey, outlining the key events and influential inhabitants that have left their mark on this stretch of Georgia's coast.

Each chapter focuses on a specific era: indigenous occupation; Spanish occupation; English occupation; the colonial period and War of 1812; the planter era and Civil War; the Gilded Age; north-end settlements and hotels; and the creation of a protected national seashore.
By Stephen Doster (Author), Benjamin Galland (Photographer)
392 pages